Company Info:
—
Industry: Education
Employees: 200-500
HQ Location: Los Angeles, CA
Website: uclaextension.edu
Share this Case Study:
UCLA Extension Improves Site Enrollment Through Site Search Optimization
Business Background
—
UCLA is recognized as one of higher education's elite brands. For nearly a century, the school has produced some of business' elite, science's laureates, music and film's innovators, and sports elite. The UCLA Extension is the university's global continuing education arm, and the path for thousands of students to start or explore new careers in some of the most intriguing and high-growth fields.
Business Challenge
—
As UCLA Extension grows, so too does the demand for its online presence. Two areas where they knew they needed focused solutions were in online enrollment conversions and search. To truly grow and improve its online experience, UCLA Extension sought the expertise, strategic planning, and implementation of both crucial projects from Xcelacore.
How Xcelacore Solved the Challenge
—
After an intensive deep dive into the business requirements and user expectations with key stakeholders, Xcelacore proposed a highly reliable, scalable and fault-tolerant search solution utilizing Solr/Apache Lucene. This cloud-based system provides distributed indexing, replication and load-balanced querying, automated failover, and recovery.
Xcelacore used Agile methodology for all phases of the project including requirements gathering, development, performance, usability, and integration testing.
After a thorough exploration into user data, stakeholder input, and business requirements, the following feature requirements were created:
Improve search functionality & capabilities including branded and user friendly UX/UI
Ability to create custom search terms that are unique to their own industry
Highly responsive, reliable, scalable and fault tolerant search solution
Auto suggest search terms while user types in the search box
Ability to apply multiple filters
Search courses by Title, Description, course numbers, instructor name and more
Spell checking using Solr and suggestion like "Did you mean …?"
Mobile optimized search results page with ability to easily apply additional filters
The Results
—
Xcelacore researched, defined, implemented, and delivered a highly functional, variable search engine that dramatically improved the course discovery process for prospective students.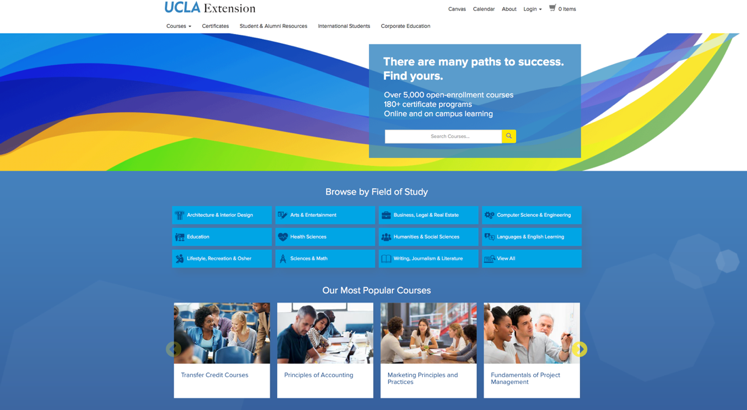 "Xcelacore does great work with integrity."
Radhika Seshan
COO and Associate Dean @ UCLA Extension
"At the project kick-off meeting, Xcelacore partner mentioned the new search will be a game changer for UCLA Extension, I am very excited to say that they have delivered on their promise."
Wayne Smutz, Ph.D.
Dean @ UCLA Extension